Inaugurally linking up with
Deb
for her
Wednesday Word
series.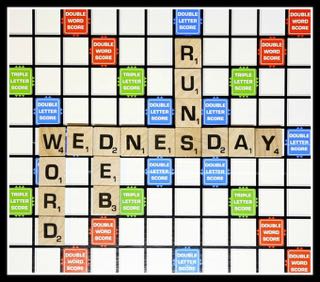 This week's word is "Dreams."
Here are some of the health/fitness things that I dream of, in no particular order:
Running completely pain-free and without fear of injury
Not having to do physical therapy exercises anymore
Running a sub-20 5K, a sub-2 half marathon, and a sub-4 marathon
BQing
Running all of the World Marathon Majors
Never experiencing blisters, chafing, or black toenails ever again
Having an endless supply of running shoes and gear to play with
Being able to do an unassisted pull-up and chin-up, and being able to do a series of real push-ups (i.e. not on my knees)
Wearing shorts that don't ride up on me and underwear that doesn't create wedgies
Breaking the tape at a race
Refundable race registrations and/or never having to worry about race lotteries/sell-outs
Not being intimidated by hills
Being able to eat all the desserts, deep dish pizza, junk food, and fried foods that I love without gaining weight or having my stomach revolt in full-scale hubris
Never struggling with motivation, fear, or self-doubt
Never running out of battery on my Garmin or music source, and being able to completely trust my Garmin
Getting weekly massages
Having good weather for all races - no more racing in monsoons, derechos, or extratropical cyclones
Never being sleep-deprived and never having trouble falling asleep the night before a race
To para-quote that guy from Pretty Woman, "Some dreams come true, some don't, but keep on dreaming. Always time to dream. What's your dream?"